GeneTracker GO runs on the iPad
FileMaker® Go software.

FileMaker® Go is available as a FREE download from the Apple iTunes® store.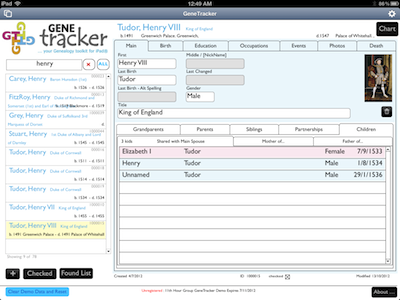 GeneTracker

will allow you to create people records and link them to other people via many relationship and event types. Children, Parents, Grand Parents, Great Grand Parents are all simple to view and edit.
All basic birth, death, marriage and divorce details can be recorded in the main view.
'Spouse' must be recorded as "Main Spouse" to show "Children" of the couple. Separate views list 'Mother of' and 'Father of' kids from other partners.
Defacto and other partnership changes, education, occupations, accommodation, incarceration, military service and any number of other important life events can be recorded.
GeneTracker

is available in GO, Pro and Server versions. When the standalone GO version needs to be shared, talk to us about an upgrade.
GeneTracker GO will work on the iPhone but it will not be an optimal size for data entry and navigation and the buttons will be too small for most large fingers.